Sensaphone 2000 - Discontinued..
..replaced by The Sentinel

Quick View
Built-In:
Power Failure
Inputs:
8 - Select Temperature, Dry Contact, 4-20mA or 0-5V analog, Pulse Count, Run Time Accumulator
Outputs:
1
Notifications:
32 numbers - Select custom voice, fax, numeric pager, cell phone text message, email, or modem
Part Numbers:
Sensaphone 2000 w/ International Power Supply


FGD-2000-INT



Sensaphone 2000 with Nema-4X Enclosure

FGD-2000-E
---
Sensaphone 2000 Functional Diagram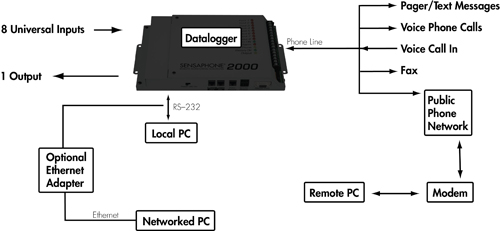 ---
Sensaphone 2000
(For data logging, Includes FREE Microsoft Windows compatible software)
The Sensaphone Model 2000 is an eight channel system with some very unique and powerful features. The eight inputs are universal and can accept either dry contact sensors, thermistors, 4-20mA transducers, and even pulse count devices. Instead of a local keypad for programming and status, the 2000 includes free Windows-compatible software for your PC for easy point-and-click access. One of the main reasons that the 2000 is so popular with our customers is its data logging capabilities. It can store 32,000 time stamped records internally that can be retrieved either locally or remotely. The stored data can then be analyzed and graphed for a detailed view of the trends at your site.
When you have multiple remote sites that you need to monitor, the Sensaphone 2000 makes it easy. If you dedicate a PC that is running the 2000 software, you can use the PC to automatically retrieve and maintain the monitoring status and history information for all of the remote sites. You can program a polling schedule for the PC to follow when collecting data so that all of the data from the remote sites is always available from that single PC. You can even have the PC create web pages from the retrieved data so you can view status and history from a web page anywhere in the world. In addition to all of the data and software features in the Model 2000, it also has enhanced notification capabilities. The 2000 is sophisticated enough to allow notification scheduling so you can have alarms call you at the office during the day, at your house at night, and to your cell phone on the weekends.
In addition to making custom voice phone calls, the Model 2000 can send text messages to an alphanumeric pager or cell phone, and can even send messages directly to a fax machine. A total of 32 people can be notified by the Sensaphone 2000 in case of an alarm.