DLP-25
MODEL:DLP-25
MCG's DLP-25 series is designed to protect critical control circuits from lightning induced transients.
The DLP-25 series comes in three offerings – light duty, standard duty, and heavy duty and protects up to five wires.
The DLP-25 uses a compact aluminum DIN rail mount enclosure.
If a DIN rail does not exist in your application, a DIN rail bracket is provided for mounting to any flat surface.
Voltages available: 6V, 12V, 25V, 36V, 55V, 100V, 150V, 180V.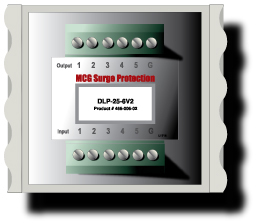 20 Year No-Nonsense Warranty.